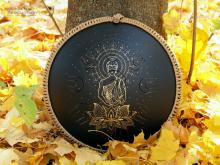 Dear Friends!
We are more than satisfied with our last experiments - using brass and aluminum has moved guda`s sound up to higher level. These materials bring new tone to Guda's sound - warmth and deepness of brass and crystal clarity and brightness of aluminum. 
Guda team launched two model lines based on brass and aluminum - Guda Ortus and Guda Coin. Both of them were successfully tested and we have already sold lots of them and got positive feedback from our customers. Guda drum by Zen-Percussion is the first and the only brass and aluminum tongue drum (tongue pan) instrument on the market - we do not save on materials and on our customers.
So, we want to share our happiness with you and decided to make a special offer:
Purchase one Guda Ortus or Guda Coin and get 50% discount for the second Coin or Ortus model.
We can help you to combine the scales on both instruments so you can play two Gudas simultaneously or enjoy playing them together with your friends or family. 
ENDED