Submitted by
admin
on Mon, 23/11/2020 - 21:39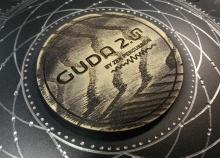 Starting to create tongue drums 7 years ago (in 2013), we could not even imagine that in just a couple of years we would become so popular that they would start to fake us. It would even be funny if the evil-minded people weren't trying to deceive our customers.
We already struggled against several fake "Guda" manufacturers from different countries who tried to imitate our instruments (however they didn't even look alike, but the scammers tried to fake the appearance of the model and designs, but it turned out crooked). We closely follow our brand on the web and always try to expose and convince them to remove their fake instruments.
Some of the fake makers are so impudent that trying to proclaim themselves as real Guda makers. Since we monitor the spread of false information on social networks and require tech support to immediately remove fakes, one of the scammers decided to write absurd and deceitful articles on his own website. Unfortunately, sometimes we cannot reach Google technical support and block fake sites, but we continue to struggle against charlatans... Even dozens of fake articles can't bury the facts. And the facts are:
guda-drum.com is the first Guda website that appeared on the Net. You can easily check the domain age of guda-drum.com and everything will be clear for you
We have all patents and legal rights in all EU countries and the USA. Only Zen Percussion company can sell Guda in EU and USA if you see somebody trying to sell some other "guda" made not by Zen Percussion - you can be sure that this is a violation of the law. Buying such an instrument is a violation of USA and EU laws too!
You can carefully look for our videos, photos. To read articles and product descriptions. Or hold a genuine Guda in your hands. All our instruments are quality made, with a high level of craftsmanship. We use only premium expensive materials (stainless steel, brass, aluminum) and equip our instruments with quality accessories.
Unfortunately, support services in Google, Youtube, Facebook, Instagram, and some other social networks are almost dead and we can't get feedback from them for months. We are really sorry if our customers are scammed with fake instruments, but we try to do our best to prevent such cases.
So, here are several steps on how to tell the authentic genuine Guda from fake instruments:
ALL OFFICIAL GUDA MODELS HAVE SERIAL NUMBER on the bottom side near the rim (it is usually closed with removable rope edging). If you have any hesitations, you can just contact us at sales@guda-drum.com or at support@guda-drum.com and ask the operator to check the serial for you.
Official Guda models are Guda 2.0, Guda Double, Guda Freezbee, Guda Coin, Guda Coin Ultra, Guda Ortus, Guda Ortus Ultra. Discontinued official models are Guda Neo and Guda Standard. You can read the description on our website guda-drum.com or contact us at sales@guda-drum.com or at support@guda-drum.com and ask about the models
guda-drum.com is the first and the only official website! You can find our instruments at Amazon,  eBay, Etsy, Reverb.com. Of course, we have some resellers in the EU, Japan, Canada, but please contact us first to make sure that you are buying real  Guda from the real seller. However, if you have any hesitations - buy at guda-drum.com or just ask if the Guda is real if you find it somewhere else on the Web.
Official Guda Drum by Zen Percussion social media: Guda Facebook Group, YouTube 
Reviews on our website: https://guda-drum.com/reviews. You can find more review and comments here: Guda Facebook Group, YouTube