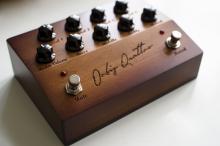 Dear Friends! We are happy to introduce you our new electronic device, designed especially for handpans and tongue drums. Meet Orbis Quattro preamp/mixer/effect pedal. 
Orbis Quattro was designed for handpans and steel tongue drums, but you can use it also with any other musical instrument. This device is very suitable to use with our Guda Double Fx model - you can plug in both outputs of the drum to different channels of Orbis Quattro and to play it in stereo or mono mode
Also, on of the main purposes of Orbis Quattro is to amplify the handpans and tongue drums, using our new Orbis Mage active pickups. You can connect from 1 to 4 Mage pickups to Quattro pedal and tune them separately. Thus, you can amplify from 1 to 4 instruments simulteneously! And regulate the volume of each independently. So, if you already have Guda drum without pickups (as well as any other steel tongue drum, handpan or pantam), you can order Mage pickups (or Mage pickups with Quattro pedal in one box) and use all the features of Guda Fx model. No need to rebuild or exchange your drum - just order Mage pickups, install them in 2 seconds on your pan and play!
Orbis Quattro handpan/tongue drum has 2 high quality reverb modules (1 module for each stereo output). And the main feature of our new device is 3-way EQ, which has wide spectre of frequencies and allow you to get the sound you want. In this way you can use Orbis Quattro pedal with variety of tongue drums, handpans, guitars, basses and other instruments.
Orbis Quattro and Mage pickups are already available for sale, you can find them in our store: https://guda-drum.com/store